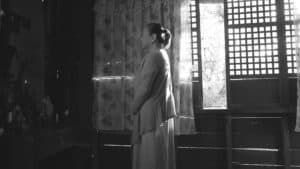 Ci troviamo nel 1997. Mentre il mondo è ancora scosso dalla morte di Madre Teresa e da quella, prematura, di Lady Diana in quell'incidente automobilistico che tutti ricordiamo, le Filippine sono diventate la capitale asiatica dei rapimenti, e tutti sono in preda alla paura. In queste condizioni, Horacia Somorostro vive una vita di prigionia, piena di problemi, talvolta crudeli. 
The Woman Who Left, del regista filippino Lav Diaz, è stato accolto positivamente dalla critica di tutto il mondo. C'è da dire che in molti credevano, anche dopo la vittoria del Leone d'Oro alla 73 Mostra del Cinema di Venezia, che il film non potesse varcare i confini del festival per alcune caratteristiche che si avvicinano poco ad un cinema commerciale. Si pensava anche ad una distribuzione del film in versione ridotta, accorciandone la durata, che è di 3 ore e 46 minuti. Al contrario, invece, il film arriverà nelle sale italiane, e sarà distribuito da Microcinema, che darà la possibilità agli spettatori italiani di poter godere per la prima volta di un prodotto cinematografico del regista filippino.
Proprio il regista Lav Diaz, si era già messo in mostra a suo tempo nella Mostra del Cinema di Venezia, vincendo sia nel 2007 che nel 2008, nella sezione Orizzonti, grazie ai film Death in the Land of Encantos e Melancholia. Egli aveva vinto anche a febbraio l'Alfred Bauer Award al festival di Berlino per A Lullaby to the Sorrowful Mystery.
Le parole dell'amministratore delegato di Microcinema, Roberto Bassano, sono state: "la storia di Microcinema è sempre stata all'insegna delle opere di qualità, nel tentativo di aumentare la varietà dell'offerta cinematografica nelle sale italiane e di formare il pubblico del futuro. È naturale, oltre che un vantaggio culturale e imprenditoriale, distribuire in Italia questo capolavoro, che a Venezia ha entusiasmato la critica e che ha definitivamente consacrato uno dei più coraggiosi autori mondiali di questo millennio. The Woman Who Left, film di grandissimo pregio e di assoluta bellezza, merita tutto il nostro impegno e il nostro coraggio. Siamo certi che il pubblico saprà ripagarci". Noi non possiamo che ringraziare la casa Microcinema che ci permetterà la visione di uno di quei film che si promette di essere un capolavoro del 2016.